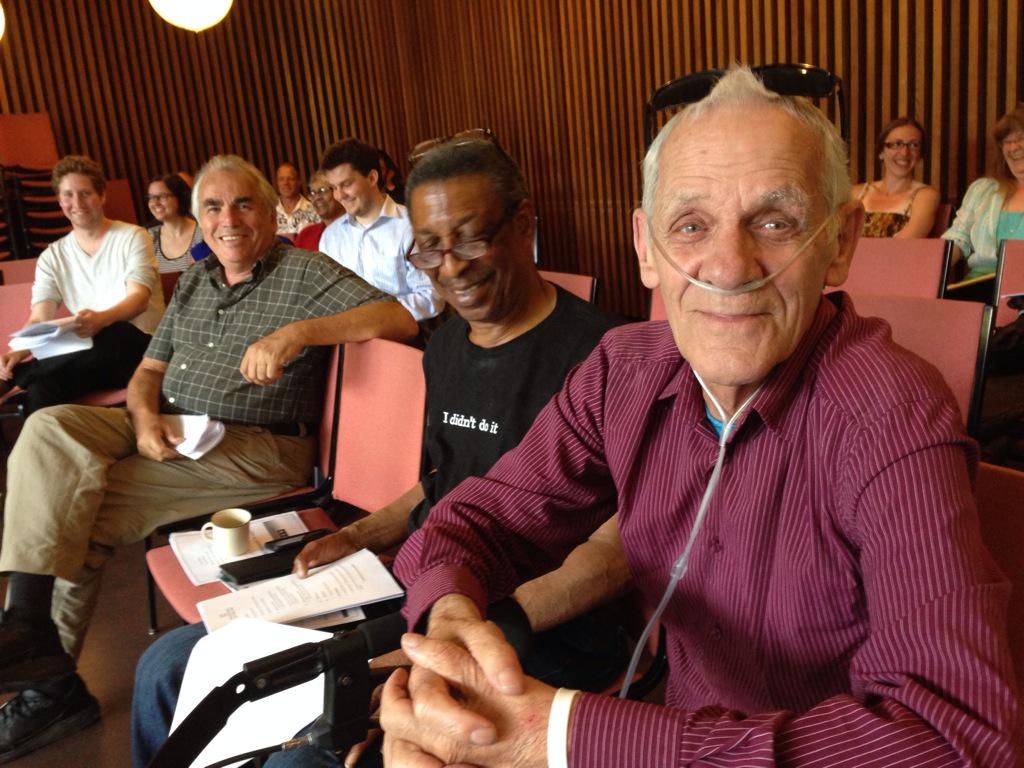 Above: Harold Levy, Association in Defence of the Wrongly Convicted 'Ambassador' John Artis, and the late Romeo Phillion, at a recent AIDWYC annual meeting.
PUBLISHER'S NOTE: Romeo Phillion's death represents one of the darkest blots on Canada's criminal justice system As former Globe and Mail reporter Kirk Makin wrote on November 28, 2008:
"Romeo Phillion is likely the only accused killer ever to have his alibi both confirmed and then discredited by the same police investigators, an Ontario Court of Appeal judge noted yesterday. Mr. Justice Michael Moldaver said that the bizarre anomaly - coupled with the fact that Mr. Phillion's defence may have been kept in the dark about the alibi reports prior to his 1972 trial - may entitle the 59-year-old man to have his conviction quashed. "I can't say that I've ever heard of a case where police went out and verified an alibi and later discounted it," Judge Moldaver said to Crown counsel Lucy Cecchetto, during a special review of Mr. Phillion's case. "If you have got another case, please tell me." Judge Moldaver said that the troubling alibi scenario was worsened by the disappearance of physical evidence, police notebooks and investigative reports in the case. "You have to factor all these things into the mix and say: 'Under these particular circumstances - perhaps never to recur again - was there an obligation on the Crown to disclose?' " he said."
Yes, the conviction was quashed - but only after Romeo had spent 32 years behind bars. Yes, the conviction was quashed - but Romeo was forced to go to the courts if he wanted compensation and sadly died before the courts had processed his claim. Yes, the conviction was quashed, but Romeo had not yet received the official exoneration and apology from the government which he deserved. To make matters worse, there's the disturbing suggestion that that the police hid from Phillion's lawyers the alibi which would have trumped a false confession (which Phillion promptly retracted) - and, as Kirk Makin reported, "Judge Moldaver said that the troubling alibi scenario was worsened by the disappearance of physical evidence, police notebooks and investigative reports in the case." To my mind, and so many others, there is no way in which Romeo would have been convicted and put through his 32-year ordeal, if existence of the alibi evidence (originally confirmed by the police) had been disclosed. I met Romeo quite a few times over the past decade and I was always inspired by his positive nature, his ability to laugh - in spite of it all - and the support he gave to other wrongfully convicted people. He shall be missed.
Harold Levy; Publisher; The Charles Smith Blog.
STORY: Romeo Phillion, wrongfully imprisoned for 32 years, dies at 76," by reporter Jacques Gallant, published by the Toronto Star on November 4, 2015.
SUB-HEADING: "Phillion spent 32 years in prison for a wrongful conviction for murder and was in the process of suing the Crown and police for $14 million."
GIST: The justice system is not infallible. Romeo Phillion knew that better than most. Wrongfully convicted of murder in 1972, he would spend almost 32 years in prison — a life robbed by the failure to acknowledge what is not so surprising today: that confessions can be false; that evidence is sometimes withheld; that the courts can get it wrong. Phillion died Monday morning at the age of 76 in a Mississauga hospital, following a long illness. He was the longest-serving inmate in Canada to have a murder conviction thrown out. What he wanted most in his years of freedom, he never received: a finding by the court that he was innocent of the 1967 stabbing death of Ottawa firefighter Leopold Roy, an apology for the decades spent cut off from society and compensation from the government. .......
The government referred Phillion's case to the Ontario Court of Appeal, which ordered a new trial — but not an acquittal — in 2009. The court found that it was never disclosed to the defence at the first trial that police had verified Phillion's alibi, showing his innocence. The police report confirming the alibi might never have surfaced, had a parole officer not shown it to Phillion in 1998, according to his biography on the AIDWYC (Association in Defence of the Wrongly Convicted) website..........(AIDWYC founder James) Lockyer said he believed Phillion's 12 years of freedom were happy ones. He was a staunch supporter of AIDWYC, appearing in his scooter at many of their events, as well as in court when a wrongfully convicted individual was being released. "He had friends he never had before and he had a sense of being someone, because people were really interested in meeting him and hearing him speak publicly," said Lockyer.
"It was remarkable how much everyone always liked him."
The entire story can be found at:
http://www.thestar.com/news/gta/2015/11/03/romeo-phillion-wrongfully-convicted-of-murder-has-died.html
See the interesting account of Romeo Phillion's ordeal in Canada's criminal justice system by Sarah Harland-Logan, headed: Introduction: The Unsolved Murder of Leopold Roy, which was published on the AIDWYC web page.
"More than 20 years later, in 1998, Romeo's case took a surprising turn. His parole officer gave him an envelope containing police reports from his Corrections Canada file. One of these documents was a police investigation report that had been prepared on April 12, 1968 by prepared by the investigating officer, Detective McCombie. This report appeared to provide Romeo with an alibi: it indicated that Detective McCombie had spoken to a Trenton service station operator who confirmed that Romeo had been in Trenton between 12 and 1 p.m. on August 9 – the day of Leopold's murder – "therefore making it impossible for him to return to Ottawa by 2:45 p.m. at the time the murder was committed."[20] This possible alibi had never been raised in Romeo's trial. In fact, his lawyer specifically stated at trial that there was "no issue" with the fact that Romeo had been in Ottawa at the time of Leopold's death.[21] Finally, Romeo had compelling evidence with which he could get his case reopened. He sent Detective McCombie's report to the Innocence Project at Osgoode Hall Law School. On May 15, 2003, the Innocence Project and AIDWYC submitted a s. 696.1 application for ministerial review to determine whether Romeo's conviction was a miscarriage of justice.[22] Romeo was awarded bail while the Minister of Justice considered the application, bringing an end to his 31 years spent in prison. Although Romeo could have applied for parole much earlier, he had refused to do so because he felt that that applying for parole would be tantamount to admitting that he had killed Leopold. Romeo continued to insist that he was innocent.[23] On August 2, 2006, the Minister of Justice ordered that the Ontario Court of Appeal reopen Romeo's case.[24] The judges heard evidence to determine why Detective McCombie's 1968 report giving Romeo a verified alibi for the time of the murder had never been disclosed to his lawyer.[25] In its decision, the majority of the Court concluded that the Crown had not intentionally pursued their case against him knowing that he was innocent. The majority found that there was a great deal of confusion surrounding whether and when the police learned further information that discredited this alibi. Detective McCombie testified that after submitting the April 12, 1968 report, he had retrieved tow records of Romeo's car showing that he could actually have made it back to Ottawa in time to have killed Leopold.[26] However, there was no evidence to confirm that Detective McCombie had in fact made this trip and found evidence that discredited the alibi. Justice Moldaver stated in his decision that "the tow records … and the occurrence report that Detective McCombie claims to have prepared upon his return from Trenton – if these items in fact existed and were deposited there – had gone missing from the [police] property room by January 1972 when … [Romeo] was charged" with Leopold's murder.[27] Justice Moldaver did not conclude that Detective McCombie was lying, given his distinguished career and sterling professional reputation.[28] However, he found the complete lack of documentation confirming Detective McCombie's supposed trip to Trenton to be "disturbing," though perhaps not particularly surprising, given the numerous other exhibits that the police had lost and could not locate for Romeo's trial.[29]
Regardless of what exactly happened in the sloppy police investigation, it was perfectly clear that the Crown prosecutor had a copy of the April 1968 report, which was never disclosed to Mr. Cogan, Romeo's lawyer.[30] As a result, Mr. Cogan was unable to use the report – which, as noted by Justice Moldaver, "would have been gold in his hands" – to cross-examine the officers about Romeo's alibi.[31] Therefore if Mr. Cogan had known about the report, Romeo's trial would likely have gone very differently, and Romeo probably would not have spent the following three decades in prison.[32] The Court of Appeal overturned Romeo's conviction and ordered a new trial.[33] However, the Crown withdrew the murder charge against Romeo on April 29, 2010, since there was no reasonable chance that the new trial would result in his conviction.[34] Coincidentally, April 29 is Romeo's birthday: his name was finally cleared on the day he turned 71. After the charges were withdrawn, he told reporters that he "got an apology from the judge, which was a gift" that he was "not expecting."[35] "I'm 71 years old today," he explained, "but I feel like I'm 21."[36]"
http://www.aidwyc.org/cases/historical/romeo-phillion/
PUBLISHER'S NOTE:

Dear Reader. Keep your eye on the Charles Smith Blog. We are following this case.







I have added a search box for content in this blog which now encompasses several thousand posts. The search box is located near the bottom of the screen just above the list of links. I am confident that this powerful search tool provided by "Blogger" will help our readers and myself get more out of the site.







The Toronto Star, my previous employer for more than twenty incredible years, has put considerable effort into exposing the harm caused by Dr. Charles Smith and his protectors - and into pushing for reform of Ontario's forensic pediatric pathology system. The Star has a "topic" section which focuses on recent stories related to Dr. Charles Smith. It can be found at:







http://www.thestar.com/topic/charlessmith





Information on "The Charles Smith Blog Award"- and its nomination process - can be found at:







http://smithforensic.blogspot.ca/2013/12/the-charles-smith-award-presented-to_28.html




I look forward to hearing from readers at:



hlevy15@gmail.com; Harold Levy: Publisher; The Charles Smith Blog;